A question that's on all of our minds in the nonprofit world: "Will donors and activists pull back in a time like this? Will they still engage?"

People who are quarantined at home may be isolated, but they're no less committed to their values — they just need an opportunity to engage with the causes they care about. We've seen several nonprofit clients successfully mobilize their audiences to raise money and drive legislative change.

If you're wondering how to pivot your fundraising or communications program right now, take a look at how three of our clients have been able to activate their supporters in this unique moment:

UNICEF USA: Rapid response that drives long-term value
Over the course of our five-year partnership with UNICEF USA, we've raised millions for emergencies across the globe — from earthquakes and tsunamis to civil wars and chemical attacks. However, COVID-19 presents a new challenge: the first rapid-response moment where our core donors were threatened by the emergency themselves.

Our natural disaster response usually takes place in the immediate aftermath of the devastation, lasting a few weeks at most; but this emergency activation has no end in sight — it's a marathon, not a sprint. The long-term nature of this crisis has made it even more important to attract recurring donations, not just one-time gifts. Throughout this campaign, we've tested one-time versus recurring asks through the lens of COVID-19 messaging. While both asks have performed well, the recurring ask is projected to drive more long-term revenue.

From a content and creative perspective, we have highlighted UNICEF's efforts on the ground to help those in high-risk communities. With uncertain guidelines from governments and medical authorities, UNICEF provided a source of information and resources for our audiences through "explainer style" emails.

"Visualizing the need" became one of our secret weapons: We leaned into tangible giving — creating highly visual content that showed how a donor's generosity directly translated to desperately needed supplies like masks, gloves, and medical equipment. We combined this approach with a strong narrative around the importance of sustained, ongoing support — leading to extraordinary results.
Taking both one-time revenue and the projected value of our new monthly donors into account, this has been UNICEF's most successful emergency activation ever. In fact, over the last few weeks of COVID-19-focused fundraising, we've added hundreds of new monthly donors — already surpassing last year's entire file growth with two months still remaining in the fiscal year.
The Coalition to Protect America's Health Care: Activating a primed audience
When Congress began negotiating an emergency relief package in response to the COVID-19 outbreak, the initial proposals didn't include the kind of support for hospitals and health care workers on the front lines commensurate with the challenge we were facing. We needed activists to urge their lawmakers to prioritize that kind of essential funding.

Because we've worked with the Coalition to Protect America's Health Care for years to build and cultivate a community of more than two million grassroots advocates, our audience was ready to speak up on behalf of patient care. This foundation of consistent engagement helped us mobilize voices from all across the country to support hospitals during COVID-19 — and do so quickly.
We used a focused call-to-action across email, social channels, and paid media to reach the broadest possible audience and drive a strong message to lawmakers. Our central narrative was consistent: We needed to urge lawmakers to include funding essential for hospitals so that they could provide care for patients during the COVID-19 outbreak. To build a rationale for why we needed supporters to act, we offered tangible, specific examples of how hospitals would use the additional funding — on additional protective gear, on child care for essential workers, and on more equipment to scale up patient care capacity.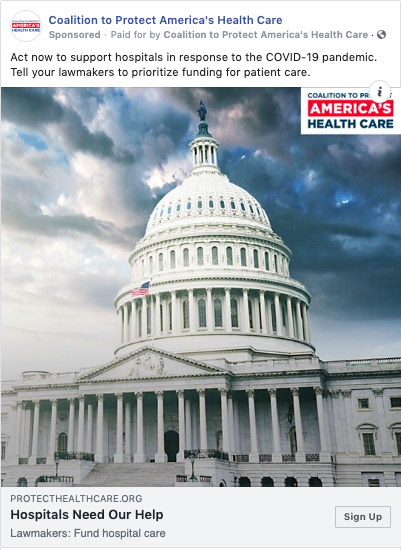 Paid media helped us reach beyond our core group of supporters, getting our message to more than 10 million people through the Washington Post, POLITICO, Facebook and Instagram, and NPR radio spots. And most importantly, we got our message in front of those who needed to see it most: policymakers.

As discussion and voting on the package progressed, we made quick pivots to messaging and legislative targets in key moments. In total, the community sent more than 84,000 letters and 2,568 tweets urging lawmakers to include more funding for hospitals.
Covenant House: Authenticity + Cultivation = High Return
Covenant House is dedicated to protecting youth facing homelessness with housing and other supportive services. They've been working tirelessly on the front lines of the COVID-19 crisis to ensure the health and safety of their community. Yet still, both staff and youth have been exposed to and afflicted with the virus and they've had to cancel large-scale in-person fundraising events. The organization is facing growing costs coupled with anticipated revenue losses.

As their email fundraising partner, we sprang into action collaboratively, quickly pivoting our communications plan to update supporters on how they could help meet the needs of Covenant House's 31 shelters across six different countries.

In early March, we began with a mix of lighter donation asks and long-form heartfelt updates from Covenant House's CEO, Kevin Ryan. As time went on and everyone began to settle into this new reality, we saw that our list was eager to do more.

By leaning into tangible giving, leading with raw and authentic messaging, and highlighting the right content — from heart-warming staff tweets to celebrity and executive urgent public appearances — we have already surpassed revenue goals for the rest of the fiscal year. We found that digital giving levels were on par with November and December giving levels. We also found that conversion rates on COVID-19 email campaigns were two to three times greater than our average fundraising campaigns, even for our non-fundraising sends related to the crisis.

It goes to show that people respond to authentic, tangible messaging and proper nurturing. Focusing on the impact of a donation while highlighting gaps in need is a great way to steward your list and help them understand the true impact of this pandemic on your organization.

…But there's more than one right way to approach COVID-19
Some of our other clients have seen success turning offline events into online meetups, or going for a more international target than ever before.

Whether you're asking your audience to rally behind a cause or open up their wallets, it's important to remember that your supporters are eager to take action in a moment like this. Do something that feels authentic to your organization, speaks to your audience, and gives people the opportunity to get involved.

Having a hard time adapting your communications plan to the current moment? We're here to help — get in touch with us.