We're finally tearing the last page of 2020 off our calendars (and maybe ripping it to shreds before throwing it in the trash). It's been a year marked by grief and exhaustion.
Of course, it's unrealistic to think that entering a new year is going to somehow ease the intensity and distress of the past 10 months. We've endured a lot this year, both personally and globally, and that's bound to stick with us well into 2021 and beyond.
But if we dig deep enough or look hard enough, there's a forgotten something peeking through the heap of hardship — and that's hope. Hope fueled by empathy.
Among the many unpredictable parts of this year, it turns out one thing was a constant across our clients and projects at Blue State: we could count on our audiences to step up when others needed them. Here are a few things that surprised and inspired us this year.
Donors surprised us with unrelenting generosity
In the early months of the pandemic, we faced our first major fundraising test of 2020: a brand-new day of giving called "Giving Tuesday Now" — created explicitly to benefit organizations working to address the physical, mental, and financial burdens brought on by COVID-19.
Honestly, we were all a bit hesitant to participate in Giving Tuesday Now. It seemed risky to ask folks for donations in the midst of a global pandemic and unsteady financial futures. Luckily, our first fundraising test was also our first fundraising surprise (and a good one, at that).
Those who were able to contribute came out in full force. Many fundraising clients — like Habitat for Humanity and JDRF (the Juvenile Diabetes Research Foundation) — raised between 70-100% of the revenue they raised on Giving Tuesday in 2019 (during year-end).
It was an optimistic (and accurate) predictor of the traditional Giving Tuesday this year, which brought in record-breaking fundraising totals across all our nonprofit clients. Learn more about Giving Tuesday performance here.
Beyond these coordinated days of giving, donors also surprised us during the in-between moments — especially in support of organizations directly addressing the challenges brought on by the pandemic.
For one nonprofit client, a "Virtual Food Drive" for seniors experiencing poverty, hunger, and isolation during the pandemic raised 85% more than a similar campaign in 2019, earned more than $100,000 from just one email (and more than $350,000 in total), and was more successful than any of the organization's previous campaigns to date.
And just before Thanksgiving, Covenant House (an organization that provides housing and supportive services to youth facing homelessness) sent its top-performing fundraising email of all time.
These huge fundraising moments were a powerful reminder that, despite facing their own unforeseen challenges, so many still shared the instinct to help in whatever ways they could (especially in the absence of help from our federal government).
Advocates surprised us with record-breaking enthusiasm
On a national scale, we saw the power of grassroots activism. In the face of a pandemic and rampant voter suppression, we STILL showed up in historic numbers to vote out a fascist administration. Fueled by anger, grief, and love, we showed up and marched for Black lives lost to police brutality and white supremacism, and demanded meaningful, systemic change.
Though we still have endlessly long battles ahead of us, it's hard to ignore the chorus of voices (from the seasoned activists to those just joining the fight) that cried out this year. Time and again, people showed up.
It wasn't just for elections, marches, and protests — we saw this enthusiasm in online advocacy, too, especially through the lens of our health care advocacy clients. We ran a campaign focused on COVID-19 relief funding with AAMC Action, a growing grassroots community within the Association of American Medical Colleges that advocates to improve the health of all through investment in patient care, medical research, medical education, and community collaborations. . The campaign garnered 35,000 constituent letters to lawmakers on Capitol Hill, urging them to forgive student loans for health care workers on the front lines of COVID-19. It performed 3X better than any AAMC Action advocacy campaigns from the last five years.
In partnership with the California Hospital Association, and on top of their ongoing advocacy efforts to secure resources for hospitals and health systems fighting COVID-19, we launched a statewide campaign encouraging Californians to send messages of thanks and support to hospital workers. The outpouring of gratitude and appreciation in a time of crisis was incredible.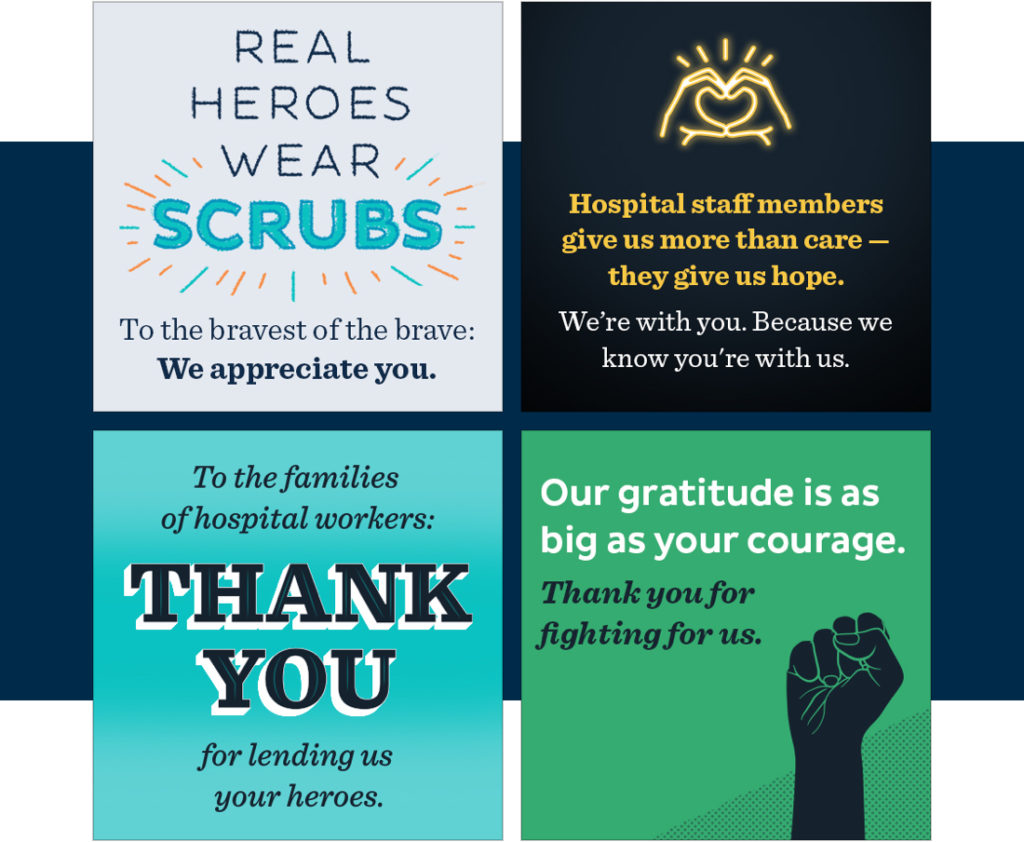 So many things failed in 2020, but human-powered solutions — and above all, empathy — prevailed. The darkness of this year brought to light the remarkable power we have to take care of one another. To all those who expressed gratitude for our health care workers (or if you are one!), helped out a neighbor or friend, donated to a cause you care about, or helped us all make it through this year with your kindness, humanity, and empathy: thank you.
---
Want to talk about something else inspiring you saw this year? Tell us!